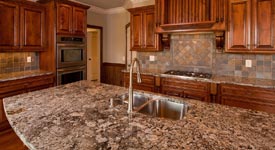 For professionally installed granite countertops in Las Vegas, count on Dream Construction. Granite countertops in your kitchen or bathroom add a touch of style and sophistication to your home. We pride ourselves on providing quality materials, expert craftsmanship, and the best customer service in the industry. We can help you choose the look that best suits your lifestyle, personality, and budget. Contact Dream Construction, Las Vegas' most trustworthy general contractor, to help you select and install the perfect granite countertops for you and your family.
Durable Elegance For You Kitchen And Bathroom
Popular Granite Colors
Here are a few of the most popular granite colors that we offer:
Tan Brown
Black Pearl
Santa Celelia
New Venecian Gold
White Granite
Jewel-Toned
Blue Pearl
Granite Countertop Installation In Las Vegas
One thing people love about granite is its ability to match virtually any color scheme. Granite countertops present several advantages over traditional wood or laminate countertops. They add an organic look to any room. Because countertops are a central part of any home, we want to help you get the space-enhancing look you desire. You can rely on us to provide first-class hassle-free granite countertop installation. Wow your guests with the elegance of new granite countertops and love your kitchen again.
The Reliable Choice
Granite countertops stand up to knife marks, heat, and other normal wear and tear. Depending on the day, your kitchen countertop may end up being used as a cutting board, hot pad, office desk, snack bar, food prep service, or drink prep station. Granite countertops guarantee a sturdy surface that can stand up to the abuse you dole out. No one does granite countertops in Las Vegas like Dream Construction. Speak to a member of our staff to schedule the design and installation of your new countertops today.