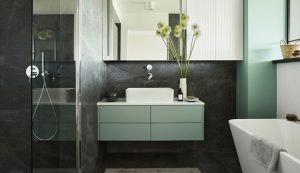 Dream Construction Co. will work with you to design and execute luxurious bathroom remodeling projects for Las Vegas homeowners. Whether you want a complete master bath remodel for a spa-like retreat or are just looking to modernize a guest bathroom, we can help you get the job done quickly and affordably.
Our bathroom remodels can help you do the following:
Add More Space
Modernize Fixtures
Increase Storage
Bring In More Light
Create Custom Features
Modern Master Bath Designs
Skip fumbling around every morning in a cramped space to get ready for work or school. Custom bathroom remodel builds let you decide on space arrangements to best fit your needs or aesthetic values. Tell us the must-have fixtures and appliances you've always wanted, and our design team will create your floor plan. Some of the ways we can make your bathroom bigger include the following:
Built-In Cabinets
Custom Vanities
Floating Shelves
Changing The Layout
We put our expertise to work on each professional remodeling build from beginning to end.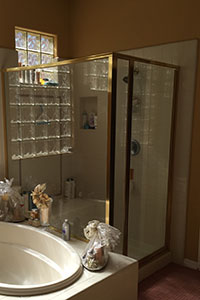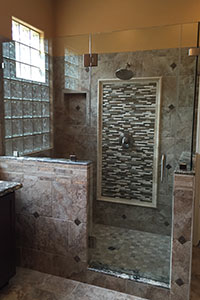 Custom Details In Bathroom Remodels
The sky is the limit when you choose custom bathroom remodeling with Dream Construction. You may be considering some of the following updates:
Sliding Door Installation
Swinging Shower Doors
A Glass Block Shower
Claw-Footed Tub
Unique Lighting Fixtures
Updated Sinks
Lighted Vanity
Builds Where Form Meets Function
Your bathroom should be one of the safest places in your home. That's why our designers and builders will work with you to create the bathroom that takes into account mobility and access. Some other potential safety features include:
Built-In Grab Bars
Chair-Height Toilets
Shower Benches & Chairs
Slip-Proof Floors & Mats
Anti-Scald Faucet Valves
Hand-Held Shower Heads
Bathroom Upgrades Constructed To Last
Our bathroom remodel can both update your space and make it safe and sound for decades to come. We help you select features and materials that will last for however long you need them to, and we can help you create an environmentally friendly bathroom to fit your eco-conscious lifestyle. Whether you're looking for sleek granite countertops, smart home integration, or the latest in fixtures and appliances, we can help you with all kinds of ideas and considerations.
Water-Efficient Devices
Lifetime Warranties
Durable Finishes
Adequate Ventilation & Lighting
Professional Installation
Fully Customized Bath & Washrooms
Our bathroom remodeling contractors have over 20 years of experience in helping clients like you find the right features to keep you comfortable and organized. Hidden tank toilets, handicap shower chairs and features for aging adults, convenient storage, and walk-in bathtubs are some of the many ways to achieve a custom bathroom remodel unique to you and your needs.
Begin Your Dream Las Vegas Bathroom Remodel
Contact Dream Construction Co. today to talk about professional bathroom remodeling in your Las Vegas home. We would love to help you begin each day in a space that's thoughtfully upgraded, clean and inspiring.