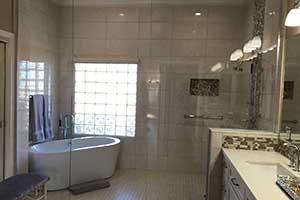 Interested in bathroom remodeling for your Las Vegas home? Dream Construction Co. is the leading home builder and remodeling contractor in the Las Vegas valley for bathroom renovations. Whether you are interested in a traditional or contemporary style remodel, we are your local builder. You come up with the concept and let us take care of the details. As a professional custom contractor, we can make your dream rooms a reality. Let us show you how easy it is.
Dream Bathroom Remodels
There are several reasons to choose custom bathroom remodeling. You may have started with thoughts of upgrading the fixtures, improving the overall appearance, or even just making minor repairs. We can fix leaks and water damage. Maybe you hope to make a small bathroom look bigger or make better use of the available space. Re-configuring the room's floor plan can help. Maybe you just want an updated look that adds pleasure and value to your home. Quality is our highest priority at Dream Construction Co. We put our expertise to work on each professional remodeling build from beginning to end.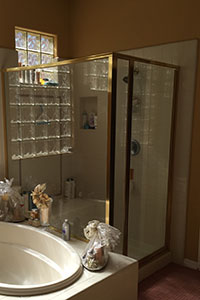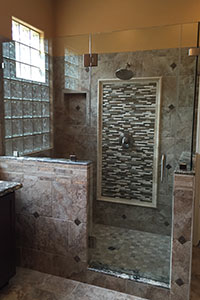 The Style You Want
Dream Construction Co. can help you design the bathroom of your dreams. You may be considering some of the following popular updates:
Sliding Door Installation
Swinging Shower Doors
A Glass Block Shower
Claw Footed Tub
Unique Lighting Fixtures
Updated Sinks
Lighted Vanity
We can assist you in selecting the style that suits you best from a wide range of options. The sky is the limit when you choose custom bathroom remodeling with us.
Bathroom Remodeling In Las Vegas Done Right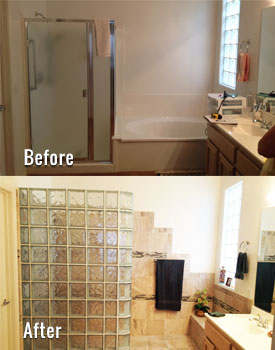 We have seen how a proper ventilation system can improve the air quality and longevity of an entire house by exhausting moist warm air that can promote mold and mildew growth. We know, first hand, how much of an impact individual rooms in your house can have on the entire home. That's why we help each client pull off amazing bathroom remodeling with safety and longevity in mind.
You can feel secure knowing that Dream Construction Co. will complete your bathroom remodeling project with the professionalism and reliability that comes with 20 years of know-how and practical application.
Your Dream Remodel Builder
If you are interested in professional bathroom remodeling by the premier custom builder and renovator in Las Vegas, Dream Construction is your number one local contractor. If you have any questions regarding the services we offer or would like to request a free quote, contact us today.