Whether you are a commercial tenant looking to remodel or an owner requiring rehabilitation of a previously rented space, contact Dream Construction Co.. We are a general contractor, specializing in commercial tenant improvements in Las Vegas. We can help you create the perfect environment you need to enhance your business and maximize your income potential.
Professional, Efficient & Effective
Our expert design/build team will work with you to turn the vision you hold for your business into a reality. We provide seamless coordination between owners and tenants, and ensure that all regulatory requirements are met. Time is money, and our experienced managers, subcontractors and support staff guarantee that your project will be completed on time and within budget.
Tenant Improvements & Remodeling
Whether your business is a restaurant, a retail store, a warehouse or an office, each has a particular design and logistical needs that must be accommodated. Let us help you give your business the boost that an updated remodel can provide. You may wish to utilize your tenant space better by adding walls or partitions, or conversely you may wish to remove existing walls to provide a more open environment.
Restaurants, Retail, Offices & Warehouses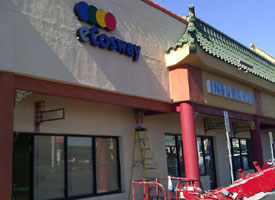 If your business is a restaurant, we can help you create a more intimate atmosphere with a dropped ceiling and decorative partitions between tables, or we can expand and update your kitchen with new or additional shelving, countertops, plumbing and power outlets. For retail stores, we can help you create a design that more advantageously displays your products. If you run a warehouse, we can assist you with maximizing your storage space and utilization. If your business is conducted in an office, it can be transformed by our team to create additional work stations, storage or equipment rooms and conference rooms, all within your existing space.
Rehabilitate Your Property
If you are a commercial building owner, you may often find that vacating tenants have not left their space in the best condition. Alternatively, it may be that the interior improvements for their particular type of business are not conducive to other businesses you wish to attract. Our experienced professionals can provide you with the necessary cleanup, repair, removal and/or addition of walls, and plumbing and electrical work to ready the space for a new or prospective tenant.
Dream Construction Co. has earned a reputation in Las Vegas for unsurpassed quality and workmanship. So whether you are remodeling or rehabilitating your commercial facility, contact Dream Construction Co. for an estimate today.