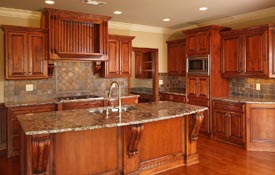 Dream Construction is your one-stop-shop for custom cabinets in Las Vegas.  Imagine cabinets that will take your home to the next level and give your sanctuary that personal touch you have always wanted. Look no further than Dream Construction for your custom kitchen cabinet needs. Our shelving, drawers, cupboards, and cabinets are constructed and installed with the utmost care, within the established deadline, and at a reasonable cost.
Brand Name Cabinets
We also offer a variety of "pre-built" options direct from brand name manufacturers. The installation and selection of your cabinets can be done affordably by putting our talents and connections to work for you.
Las Vegas Custom Cabinets
Custom cabinets are not only for the kitchen or bathroom. We can take your ideas to the bedroom, garage, entertainment area, wet bar, or laundry room. Give us your vision and we will help you achieve a remodel that is both functional and aesthetically pleasing. We have assisted clients with the following:
Kitchen Cabinets & Cupboards
Kitchen Island Cabinets
Bathroom Cabinets
Garage Cabinets
Bedroom Cabinets
Laundry Room Cabinets
Storage Room Cabinets
Wet Bar & Game Room Cabinets
Brand Name Cabinets
Custom Cabinets
Measuring & Ordering
Fabrication & Installation
Custom Kitchen And Bathroom Cabinets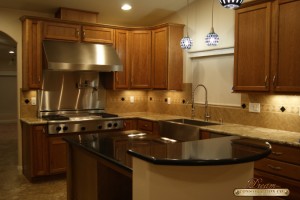 We utilize the latest cabinet construction technology combined with time-honored techniques that ensure your custom cabinets will stand the test of time. Our staff members have worked as kitchen cabinetry professionals for years and can guide you in selecting the appropriate color, design and layout ideas for your remodel. If you are in the market for custom kitchen cabinets in Las Vegas, we will help you achieve your vision for a perfect kitchen or bathroom. Our goal is to complete your project within budget and with the highest standards of craftsmanship.
Cabinet Installation Projects
At Dream Construction Co. in Las Vegas, no custom cabinet project is too large or too small. Our skilled professionals always take the time to do the job right, following your plans until the custom cabinet project is completed to your liking. With Dream Construction at your side, we are confident you will be pleased with your new custom cabinetry for many years to come.
If you are interested in custom cabinets or have any questions regarding any of our services, please feel free to contact us in Las Vegas by phone or via our online contact form.