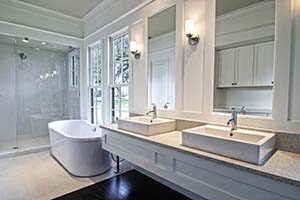 If your bathroom is less than inspiring, at Dream Construction of Las Vegas, we have beautiful "dream bathroom" remodel ideas we hope you will love. Don't settle for minor updates when you're dealing with a room you spend time in every day. You would be surprised about what you can accomplish when you renovate with our design and build team. Our goal is to make your bathroom dreams come true.
Your Dream Bathroom, Your Way
If your bathroom is in need of a style update, now is the perfect time for a luxury bathroom remodel. We can help you create your dream space, your way. There are so many new features that can make this area of your house one of your favorite places in your home. Upgrading a bathroom also adds tremendous value to your home. Our experts will work with you to create the functionality and atmosphere that suits you perfectly. If you can dream it, we can build it.
Design & Build. Where Function Meets Beauty.
Sometimes just changing the layout of a bathroom can create a new, open and inviting space. Dream bathrooms can be expensive, but they don't have to cost a fortune. With smart design that makes the most of your available space, you can plan a renovation that makes sense for your home, lifestyle, and budget. Bathroom design is about function and beauty, and we can bring together both of those elements to create the bathroom you've been dreaming about.
Bathroom Ideas For Your Dream Home
Your home is your haven, and there's no better way to create a relaxing space within it than by building a luxurious bathroom. You can soak away the stress of the day, relax after a workout, or escape to your own private spa. Some of our favorite bathroom ideas for your dream home include:
Marble Floors & Shower Walls
A Sauna Area Extension
A Larger, Brighter Rainfall Shower
Make Room To Install A Jacuzzi Tub
Skylight Additions
Walk-In Closet Additions
Custom, Built-In Showers With Niches
Building Dream Bathrooms In Las Vegas
Our name says it all: when you want to create your dream bathroom, Dream Construction is the Las Vegas builder to turn those dreams into a reality. We have decades of experience and are ready to leverage our expertise for you. Contact us today and let us build the dream bathroom you deserve.