Dream Construction in Las Vegas, Nevada can cover all your exterior painting and stucco needs. Have you ever painted the exterior of your house on your own? How about even just a wall inside? It's hard work! It can be tedious and in the brutal Las Vegas summers, and painting the exterior of your own house doesn't exactly sound like a day at the beach. Thankfully, we specialize in exterior painting and stucco services. We stay by your side through the whole process – from the free, in-person estimate, to clean up after the finished product!
The Finish You Want
Dream Construction specializes in exterior painting, but we also do all kinds of finishes. Stucco, plaster and more. There are some things that are better left to a licensed and insured professional, and finishes are near the top of that list. We do all the prep work, supply lists, and everything else you need to achieve the exact texture and finish you want. Let Dream Construction take care of it for you. We have the right equipment and years of experience throughout the Las Vegas Valley to make the outside of your house look exactly how you want it.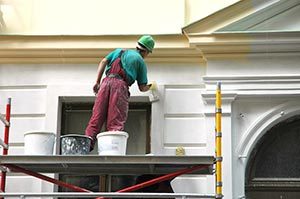 Custom Work
You can bring us your ideas and we can do it the right way, or you can call us with just an idea and we can put together a completely custom painting and finish process. We will do everything in our power to ease your worries and won't start painting until you love what we've come up with.
Get Started Today
In you're in Las Vegas or the surrounding areas and your house is in dire need of a touchup, exterior painting, or stucco contact Dream Construction today. We can't wait to help you put the finishing touches on your home!