Meet the evolving needs of today's banking consumer with financial institution remodels for your office or branch with Dream Construction in Las Vegas, Nevada. With years of experience in financial institution and commercial office remodeling and project management, we will complete your renovation on time and on budget.
Your Financial Institution Remodel Contractor
We look forward to showing you why we are one of Las Vegas's top commercial building remodeling contractor. We can make long-needed repairs, improve the exterior appearance of your building, or update the interior to your exact specifications. Whatever type of financial institution you manage, we can help:
Banks
Real Estate Offices
Lenders & Loans Offices
Title & Escrow Offices
Tax Accountants
A remodel can make both the interior and exterior of your office more appealing to customer and more profitable for you. Fix workflow problems by updating your interior as well and improve the efficiency of your staff.
Bank Remodels In Las Vegas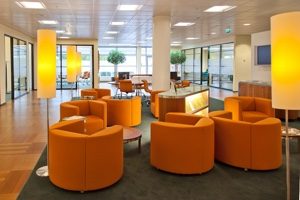 While today's digital savvy customers visit the bank less often, but when they do they expect an experience that reinforces their digital interactions and enhances the advisory services offered. For this reason remodeling of existing branches of banks and credit unions has almost doubled in number between 2014 and 2015 and one in every two financial institutions are remodeling at least one branch in 2016.
Better Financial Institutions
Dream Construction is the prime financial institution building contractor in Las Vegas and can help bring your branch into the digital age with a remodel that encompasses new technology such as digital signage, tablet or interactive kiosks, overhead music, interactive tellers, and video walls and conferencing. We are also familiar with interior design that incorporates bank technology and equipment, security devices, vaults, safe deposit boxes, drive-ups, and ATMs and the security precautions involved in construction. At the same time, we are experienced in constructing an environment that is open and free-flowing, allowing for improved one-on-one customer service.
Real Estate, Loan, and Title Offices
Like banks, today's real estate offices are also more dependent on digital technology, requiring a rearrangement of space available to provide room for more interactive technology and customer comfort and less need for desk space as agents operate primarily from home via computer. Lenders, on the other hand, need more space as technology comes into play. Title and escrow offices need to pair comfortable open waiting areas with privacy while providing services. Dream Construction's designers can work with you to create a plan that accomplishes the transition while our construction team brings that plan into reality.
Get Your Remodel Going Today
Contact Dream Construction today for an appointment and let us help you strategize and plan your financial institution branch or office remodeling project to accommodate the changing financial sector of the new digital age. Whether you are dealing with shrinking transaction volumes, integration of advanced digital technology, added regulatory demands, or just want to create a more desirable atmosphere for your customers, we can work with you to find solutions.