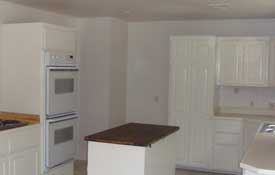 Dream Construction Co. offers foreclosure remodeling services to the Las Vegas Valley and surrounding areas. With the ever fluctuating economy and real-estate markets, the need for foreclosure rehabilitation is still apparent in Las Vegas as people continue to walk out on their properties. Whether you are an individual home owner or a real-estate investor who has acquired a newly foreclosed property, Dream Construction Co. can help you bring your foreclosure property back to its original glory. Our foundation was built on honesty, a solid work ethic, first class craftsmanship, and customer care with the foreclosure rehabilitation services of Dream Construction Co. you can believe we will put these attributes to work for you and your project.
Foreclosure Restoration Inside & Out
Occasionally, when a home is foreclosed upon and the current residents vacate the property, they may leave behind trash, old furniture, dirt and other unsightly materials that cause a property to look abandoned and unkempt. At Dream Construction Co. we make sure that your property retains the appearance of a well maintained home that anyone would love to call their own. Our foreclosure rehabilitation services include clean up, removal of furniture, trash
and debris in and around your property.
Dream construction Co. will also
remove damaged flooring whether its carpet, hardwood, or tile.
Any carpet cleaning
or surface cleaning that need to be done will be completed by our staff including broom sweeping, mopping and white glove treatment. Window cleaning is also performed by our staff to ensure your home looks as good as new.
Foreclosure Rehabilitation & Beyond
In addition to the standard clean-up services your homes may require, we can also provide a number of other services to get your homes looking their best. These services can be quoted along with your original bid or requested at any time as an individual service. We will apply methods of restoration based on years of experience and formal training to provide the most dramatic results. These cover a variety of repair and cleaning options with that ensure long-term results while keeping our work value based. We will work tirelessly provide a seamless rehab for your foreclosure property and deliver the highest possible quality available.
Whether you are a real estate agent the needs to bring back the lived in look to a property you are selling or a homeowner that wants to restore their rental property and return it to the market, Dream Construction can assist you in completing the needed repairs.
If you are interested in foreclosure rehabilitation services, have questions about any of our other services, or would like to request a free quote feel free to contact Dream Construction Co in Las Vegas at (702) 816-5800.