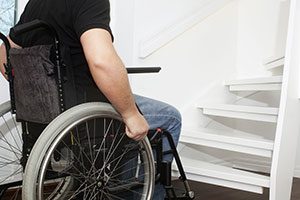 Dream Construction offers handicap accessible remodeling services throughout Las Vegas because your accessibility requirements shouldn't get in the way of owning the custom home of your dreams. Whether you're looking for a custom accessible home plan, a home builder with experience in handicap accessible renovations, or a home addition to make aging-in-place a thing of ease, we have you covered.
Little Changes For Independent Living
As general contractors, we offer a full suite of services for home remodeling. We know that installing grab bars and railing are just the tip of the iceberg when it comes to handicap accessibility. Just some of the options at your fingertips when you choose Dream Construction include:
Wheelchair Accessible House Plans
Accessible Bathroom Remodels
Accessible Kitchen Modifications
Garage Conversions And Room Additions
Your Home, Our Improvements
We offer home improvements for accessibility so you can continue to live in your existing home while adapting to new or future physical needs. There's no need to worry about moving away from friends and family only to purchase a more accessible home that still might not meet your unique requirements or tastes. Maybe, instead of a whole new house, a customized room and bathroom addition on a modified first floor is just what you need. We can help.
Roll-In Shower Installation
Shower Grab Bar Installation
Toilet Grab Bar Installation
Wheelchair Ramp Installation
Wheelchair Ramp Repair
Doorway Widening
Freedom Makes A House A Home
Are you looking for wider doorways, lower countertops, custom pullout kitchen cabinets with lever pulls? We can design an accessible kitchen or bathroom setup that meets your needs and aesthetic. Don't settle for quick, clinical-looking, short term fixes. Your home should be your sanctuary. Let us customize a space with walk-in tubs, motion sensing lights, intercoms, and anti-slip floors included. Ramps, rails, and countertops should be just where you need them.
Get Your Accessibility Remodel In Vegas
You want to be living a full life from the moment you wake up in the morning. Let us do our part to make that happen with handicap accessibility remodeling in Las Vegas. At Dream Construction, our specialty is custom home builds and remodels that make your dreams a reality. Contact us today to schedule an appointment and discuss the accessibility options that will turn your daily dangers and frustrations into a free and fabulous lifestyle.