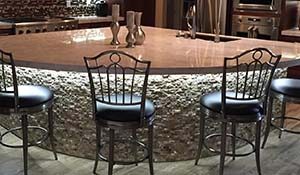 Create an oasis right in your kitchen with a kitchen island custom-built and installed by our expert design/build team at Dream Construction in Las Vegas. Whether you would like to include a kitchen island as part of a complete kitchen remodel, or simply prefer to add an island for additional counter space, storage, or dining, we can work with you to design the perfect island to fit your space and style. We can also upgrade your existing kitchen island with a variety of countertops and veneers.
Make Your Kitchen Island Unique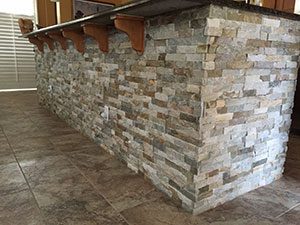 If you are looking for something more than a mass-produced, ready-made kitchen island, our skilled designers will work to create an attractive, unique and functional addition to your kitchen. By focusing on your specific needs and taking into account the current trends in kitchen design, Dream Construction can provide you with a the kitchen island of your dreams. Since an island can perform many functions including added storage, it's important to look at your family's cooking habits. If you enjoy cooking at home, the countertop can be primarily used for food preparation or perhaps a breakfast bar. Other additions might include a stove top, oven, sink or electrical outlets to facilitate the use of kitchen appliances. Conversely, if you eat out every night and use your kitchen primarily for entertaining, you might wish to use the space for a wet bar, extra refrigerator or wine storage. You can choose from a variety of countertops, including butcher block and marble, to coordinate with your overall kitchen design. Our designers can even work with a small spaces such as a condo kitchen to create a useful and functional island for food preparation.
Solid Wood Kitchen Islands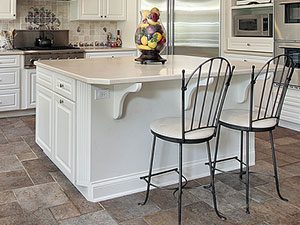 If your new kitchen island is part of an overall kitchen remodel, you may wish to use the same cabinetry finish and design as the rest of your cabinets. This may include rustic oak, refined cherry or walnut, and other options, including painted wood in your choice of colors. While some may choose to match other kitchen cabinetry, by using contrasting colors or materials, your kitchen island can provide an aesthetically pleasing focal point. This is particularly true if you are adding an island to your existing kitchen, as it might be difficult to match exactly the wood cabinetry already installed. You may also choose to use a butcher block countertop to match or complement your choice of wood in the cabinet. Marble and quartz are also popular and versatile choices for your kitchen island, and can be used to create visual impact.
Stacked Stone Kitchen Islands
If you already have a kitchen island, Dream Construction can update your existing cabinet with a stacked stone veneer, bringing the classic look of natural stone to your kitchen area. We use modular rock panels in a variety of textures and colors, providing anywhere from a rustic, rugged look to sleek contemporary styling. They are quick and easy to install and will add flair to your kitchen, as well as improving your home's resale value.
Built Professionally, Installed Professionally
Once you have worked with our skilled designers to develop the ideal solution that works within your budget, your cabinet will be expertly constructed by our builders and professionally installed in a minimum amount of time. Our installers will complete the work on time, taking care not to disrupt your household any more than is necessary as we know that the kitchen is often the hub of activity in your home.
Have the dream kitchen you envision by calling Dream Construction in Las Vegas today to schedule an appointment to explore your kitchen island options.