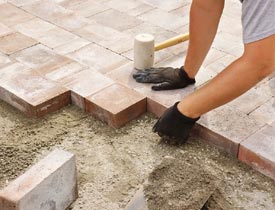 As a full-service masonry contractor in Las Vegas, Dream Construction Co. has been handling the block, brick, and concrete needs for years. Our services include new construction and restorative work for both commercial and residential clients. As practitioners of one of the oldest professions, our passion for brick, block, and stonework shines through in each project with which we involve ourselves. The classic look of brick or stone adds a touch of sophistication to your home or place of business.
Block Retaining Walls
Concrete is usually the strongest material used to build a wall. Many consumers do, however, choose to create a block retaining wall or use block walls to enclose a garden. Block walls offer many options for shape, color, and style, allowing you to personalize the look and feel. We have experience creating both architectural and retaining walls from concrete block or brick. There are various reasons people choose to erect walls. Some clients have interest in walls that add character to a property or structure. The most common walls we build are retaining walls used to separate or protect a particular area. Some choose concrete block walls strictly for decorative purposes. Whether your interest is motivated by feature or function, the answer to your masonry question is Dream Construction Co.
Elegant Brick Steps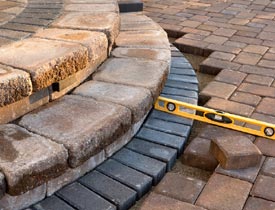 One of the simplest, yet unique, looking steps to build are brick steps. Options for building steps include traditional or reclaimed brick based on your individual taste and the overall look you want to achieve. Dream Construction Co. uses appropriate bricks that are suitable for all outdoor building projects. We are capable of creating several different standard configurations, and chances are one of them is exactly what you want.
The Shift To Concrete Block Patios
Concrete patios are becoming increasingly popular with our residential clients. Concrete has slowly become one of the most popular patio building materials in the country. This trend has created more decorative options for concrete patios than ever before. Concrete offers the versatility to allow both water features and outdoor fireplaces, in addition to being durable and requiring little to no maintenance.
Unlimited Uses For Brick Masonry
Brick is one of the most durable and green construction materials on the market. Brick masonry can be put to use in erecting fireplaces, outdoor grills, or commercially to build brick ovens. In these cases firebreak made with special clay to offer heat resistance is typically used. Brickwork is also popular for the construction of walls, archways, and other aesthetically pleasing features.
Contact the full-service masonry contractors at Dream Construction Co. to address any questions you may have regarding the services we provide, or to schedule an appointment with one of our masons.