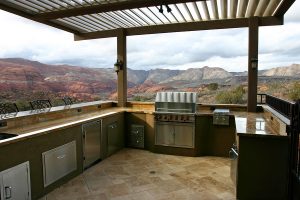 Let Dream Construction create the ultimate outdoor kitchens for your Las Vegas home. You can keep your backyard cooking area basic, including an outdoor grill and bar island or maybe a cooking station with a countertop area.  You can even make it more extensive with a large-scale set-up, such as a complete backyard kitchen design with an outdoor kitchen island, outdoor wet bar, outdoor kitchen appliances, and outdoor furniture and accessories.
Outdoor Grills & BBQs
At Dream Construction, we think that one of the most important items to include in your exterior kitchen is a backyard barbeque grill. You can go with a freestanding design or a backyard built-in barbeque layout. Either way, you'll be using your outdoor space to enjoy the outdoors more often. Types of outdoor BBQs or grills include:
Natural Gas or Propane Grills
Smokers
Charcoal Grills
Electric Grills
Hybrid Grills
Pellet Grills
Include An Outdoor Sink With Your Design
Having an outdoor sink as well as an outdoor cooking space comes in handy in so many ways. Instead of hauling everything inside to clean up when you're done, Dream Construction wants you to be able to wash all your pots, pans, and cooking utensils outside for your best convenience. We think you'll love having water handy for any cooking needs as you prepare your meals without having to go inside. An outdoor sink also comes in handy for watering smaller outdoor plants or flowers instead of having to haul out the entire backyard hose.
Other Outdoor Appliances
If having a complete outdoor kitchen is important to you, then there are a few more appliances to consider as you design your outdoor cooking space. There are a variety of items to choose from and Dream Construction can help you add the following:
Undercounter Refrigerator
Wine Cooler
Kegerator or Beer Dispenser
One-of-a-kind Stovetops & Grill Setups
Customized Vent Hood For Outdoor Stoves
Lounging and Dining Areas
A backyard custom outdoor cooking area adds an elegant touch to your outdoor space. Adding appropriate and stylish seating and lounging areas will bring your backyard design full circle and turn your backyard into a stunning new entertaining area. Some areas to consider include:
Sit-down island seating around the barbeque
A circular freestanding bar area with stools
An adjustable-size outdoor patio table
A cozy gathering area with outdoor couches and chairs
A stylish built-in fireplace, fire-pit, or fire column
Pond with waterfall for soothing sounds
Backyard Entertaining and Dining in Las Vegas
Dream Construction in Las Vegas wants to help you make your backyard kitchen dreams come true. We enjoy working with our customers to come up with the best designs, appliances, and extra features to enjoy for many years to come. We'd like to do the same for you. Please call us today for a free consultation and an estimate. We're looking forward to speaking with you.