Cool down in the Las Vegas summer heat with a new patio cover. Dream Construction Co. is your one-stop shop for patio covers in Las Vegas. We offer free estimates, and a wide range of patio covers to personalize all of your patio needs. Our most popular patio covers include lattice patio covers, solid patio covers, and combo patio covers. Our expert construction designers will help you choose the right patio cover for your home within a price range you can afford. Most patios can be installed in one to two weeks. Patio covers are also a great way to increase your home value.
Lattice Patio Covers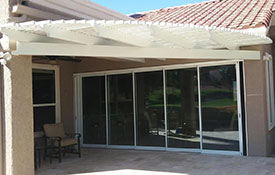 A lattice patio covers can give your home just the right amount of shade and sunshine. The lattice patio cover provides an all around, multifaceted use for backyard entertaining,
and a great resource when growing plants. Dream Construction Co can customize shapes and sizes of lattice patio covers for your home. We offer lattice patio covers in either wood or aluminum.
Solid Patio Covers
Dream Construction Co. can craft a solid patio cover that will increase your outdoor living space, outdoor dining space, or pool deck. A solid patio cover is a great solution to keep your backyard cool in the hot Vegas summer. Our solid patio covers are designed and constructed to be maintenance free with thermal materials to help deflect the heat, and the finished coat will not crack or peel so you can enjoy your solid patio cover for years to come.
Combo Patio Covers
If you would like part of your patio covered and part of the patio with just enough shade to keep you cool, then a combo patio cover is just what your home needs. A combo patio cover gives your home the protection it needs from the brutal Las Vegas summer days. A combo patio cover provides the aesthetic appeal of a lattice patio cover combined with a solid patio cover, giving you the best of both worlds. Dream Construction Co. can help design the patio cover for your home that most appropriately coincides with your individual style.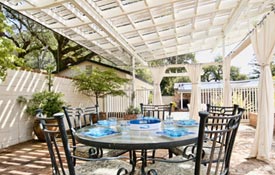 Install a New Patio Cover Today
A new patio cover is the perfect way to complete your yard, providing shade and adding an extension to your home. Our customer service teams are waiting to field your call right now. We provide free estimates and expert design service so your new patio will fit the needs of your home and family.