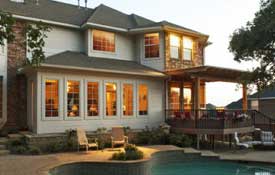 Dream Construction Co. is an experienced patio and deck builder in Las Vegas. A patio or deck is an exterior living space for you, your family and friends to enjoy throughout the year. It's not easy to find a qualified and licensed patio or deck builder in Las Vegas. We have a long history of customer care and professional service that can aid you in creating the outdoor living space of your dreams.
Beat The Vegas Heat With A New Patio
Regardless if you're a Las Vegas native or a new resident, we can all agree that our summers are hot. What better way to spend your summer time outdoors than on your newly constructed patio or deck?  Turn your backyard into the center of entertainment or your own outdoor sanctuary. Dream Construction Co. is a patio and deck builder in Las Vegas that will take your concepts and turn them into reality. In no time, we will create an unforgettable entertainment space, perfect to enjoy on hot sunny days and warm summer nights all season long. Even when the weather turns cool, we can create the perfect fire pit to keep you and your company warm all year round. We guarantee that you will look forward to the summer for years to come.
Patio & Deck Construction
The most popular designs contain distinctive decorative details, durable materials and outstanding features such as outdoor kitchen areas and built in seating that make the patio or deck both beautiful as well as functional. Even if you are looking for a simple patio or deck, Dream Construction Co. can do it all.
Free Consultation. Fast Response. No Obligations.
Given our long standing reputation in the Las Vegas area, we believe that your search for a new patio will end with Dream Construction Co. We want to give you the ultimate outdoor living space, and we take pride in our work. If you should choose to receive a consultation, one of our highly trained, certified builders will come to your home accompanied with a landscape designer for a free no obligation consultation. We will work close with your ideas to bring your dream patio or deck to life. We work fast to get patio or deck design constructed so you can get outside and take pleasure in your new outdoor space.
If you are interested in patio or deck building services, have questions regarding any of our other services, or would like to request a free quote feel free to contact us at (702) 816-5800.