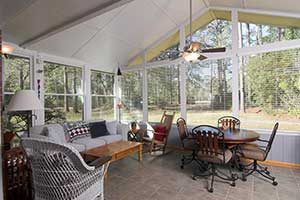 Dream Construction wants to help you take full advantage of the Las Vegas outdoors by building patio enclosures or sunrooms. Whether the weather is blazing hot or pouring down rain, you can enjoy access to the outdoors year-round. We're a General Contractor based in Las Vegas with over 20 years of experience and a passion for turning your vision into reality. Let our experienced team design and build the perfect covered area to complement your home and lifestyle and add more value to your property and your daily life. If you're ready to add one of these incredible features, so are we!
Expand Your Living Space With An Enclosed Patio
Dream Construction will identify your unique set of needs to help determine what type of all-weather room or enclosure would best suit you and your home. If you have a preexisting patio, we can design a patio enclosure to encompass its footprint, adding features at your request as we leverage the current layout for optimal enjoyment. Perhaps you'd like to enjoy your porch more fully, making an enclosed porch ideal. If you have an area of your property that benefits from excellent sun exposure, it might be time to explore adding on a sunroom or screen room.
Enjoy The Sun In A Sunroom
These features are more than just an asset to your property value. They're also a way to add depth to your daily living routine. Imagine sitting and enjoying the sun's invigorating rays from any location in your glass solarium. Think of how relaxing the soft flow of air would feel as it swirls through the interior of your screen room, which also protects you and your guests from annoying insects. These highly versatile and useful year-round add-ons are the perfect way to obtain immeasurable pleasure from your time at home.
DESIGN OPTIONS FOR SUNROOMS & PATIO ENCLOSURES
Your material choices and design options are integral to the room's ultimate plan for use, and we encourage you to discuss the benefits of each. Some options to consider are:
Glass Roof & Ceiling
Mesh Screens
Vinyl Panels & Walls
Sliding Doors & Panels
Get A Patio You Love, Start Today
We offer completely customizable plans for unique patio enclosures in Las Vegas that speak solely to your lifestyle and surroundings. Contact Dream Construction in Las Vegas and Henderson today to get started on optimizing your home with a beautiful patio enclosure or sunroom.