Dream Construction Co. specializes in room additions in Las Vegas and the surrounding areas. With the complexities included in a room addition, it is imperative to seek the aid of a professional to assist in these processes. Dream Construction Co. in Las Vegas has the experience and knowledge to make your room addition project less complicated and ensure that your conversion is done efficiently, safely and under budget. From inception to completion, we will be with you every step of the way.
Bringing Your Construction Concepts To Life
At Dream Construction Co. we work closely with our clients in order to determine the most cost-effective and objective minded path to realizing their dream. Adding an additional room is no small step and our project management group promotes the team concept and open communication during the entire the construction process. If you have determined that a room addition is right for you and your family then we will do what it takes to ensure that you are completely pleased with the final product.
Creating Greater More Diverse Living Space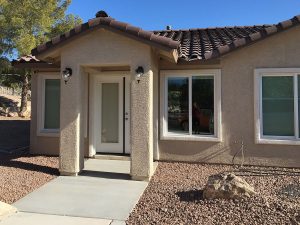 There are many different types of room additions you may be considering for you next project. Just some popular ideas include:
Additional Bathrooms
Pop-Ups
Sunrooms
Additional Entryways
Guest Room Additions
And More
A room addition is an excellent way to add square footage, make your home more livable, and increase its value. Several homeowners today are expanding their existing living areas to create larger rooms that are less formal and often connect to the kitchen and dining room. Many Las Vegas homeowners are receiving multiple benefits by taking advantage of possible tax deductions for creating a home office for their home based businesses. Whether you want to add additional space for a home theater, man cave or sitting area, Dream Construction Co. in Las Vegas stands ready to consult with you and give you any information you might need to make your new room addition a reality.
Let Our Experience Work For You
With over 20 years of construction experience at our disposal, we know that a room addition must match up precisely with the existing structure and must be consistent stylistically so that your addition looks like an original part of the house. Think of it as building a mini-house. It requires many of the same elements as a full-size home: permits, foundations, HVAC, framing, roofing, plumbing, and electricity.
Dream construction remains conscious of the fact that we must work around the inhabitants of the home while trying to minimize disruption and control dust. We are committed to your satisfaction with the construction process from day one to project completion.
If you are interested in room additions in Las Vegas, have questions about our other services, or would like to request a free quote, contact Dream Construction Co. today.