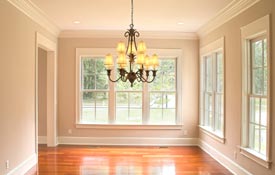 Choose Dream Construction for professional windows installation in Las Vegas. We are known for our high quality full service work, handles both new construction and remodeling. We provide new residential and commercial windows in the Las Vegas area.
The View Through a New Window
Windows provide a view to the outside world. They also add street appeal, provide ventilation, and protect your home from the elements. Dream Construction installs new windows in areas where you want to add glass space, air circulation, or increase the natural light. We professionally provide a new opening in your wall, ensure your building maintains its structural integrity and installing the proper header and provide appropriate sealing, trim, and finishing around your new window. We have the experience and skill required to finish both the interior and exterior materials adjacent to your new window whether your house has a wood finish, vinyl or aluminum siding, bricks, masonry, or stucco.
Types Of Windows
Awning Windows
Picture Windows
Transom Windows
Slider Windows
Bay Windows
Double Hung Windows
Replacement Windows
Replacement windows are a great energy saving upgrade to your home, condo, or commercial building. Old windows lack the UV protection and insulation value that new Energy Star rated windows can offer. New windows offer many options such as tinted glass, large expanses of glass, and built-in shutters. Dream Construction can replace your old windows with new windows without any disruption to the adjacent materials. Your new windows will be installed with a tight fit, perfectly sealed, and finished.
Service You Can Trust
Dream Construction replaces windows in commercial buildings just as easily as in residential ones. If your apartment or office building is ready for an upgrade, call us to replace all the windows at once. Multi-story buildings, masonry, and curtain walls are all jobs we can handle. Your windows will be replaced with energy efficient windows to save you a bundle on your energy costs. We are a professional contractor who will reduce disruption to your tenants as much as possible. We have replaced multiple windows in the span of one working day. No tenant will be left out in the cold or at risk to theft or water damage. We will ensure that each window we start finished the same day. We are the contractor you can trust to make your dreams a reality. If you are in the Las Vegas area and you've been dreaming of replacement windows or new windows, give us a call to make it come true.