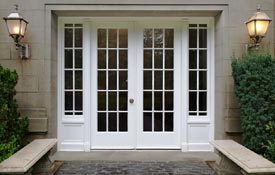 Choose Dream Construction Co. for professional door installation in Las Vegas. Whether you have a new construction project or you're looking to install new doors in an existing building, we will take care of your needs. We have over twenty years of contracting experience taking care of residential and commercial customers and making their dreams come true.
Exterior Doors Replaced Without A Hitch
Over time, the doors in a residence or business take a lot of abuse.  Exterior doors often need to be replaced due to wear and tear, damage from storms, forced entry, or to update the look or function. We remove the old door or doors and install new door in less than a day so you can rest at ease your home is secure.
Types Doors We Install
Hinged Doors
Sliding Doors
Sliding Glass Doors
Pocket Doors
French Doors
Bifold Doors
Dutch Doors
Roller Doors
Pivot Doors
We Provide A Variety Sure to Please
We install all door types – standard swing, pocket, patio, sliding glass, double french and entry doors just to name a few. When investing in new doors, don't leave the installation to chance. A poor installation can ruin a new door. Dream Construction Co. not only has the experience, but the desire to install your door properly so it works like a dream. We have built our business on return customers and customer referrals by providing service unmatched in the industry. The installation will be done expertly and to your satisfaction. We want you to smile and think of us every time you use your door and to recommend us to your friends every time you receive a compliment on your new door, which we are sure you will receive plenty!
Quality Door Installation And Workmanship
If you need advice, guidance or ideas about what doors should be included in your upgrade, we can help. Give us a call to discuss your options. We'll help you understand the difference between the door types for functionality, security, and energy conservation. We'll help you select a door that meets all your goals and looks beautiful too. So, if you are looking to upgrade your curb appeal, we have some dreamy door options for you.
The Rest Is Easy
Selecting your door will be the most difficult step in the process when you work with Dream Construction Co. Once you have selected a door, we'll be sure to measure your opening, remove the old door, prepare the opening and install your door true, level, and fully sealed. We will not leave you with a drafty door, a door that sticks or a door you cannot secure. For door installation in Las Vegas,  give us a call to discuss your project today.