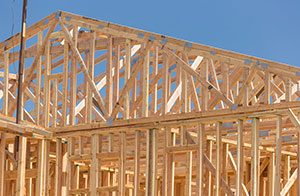 Let the professionals at Dream Construction help you design, remodel, or restore your home framing and trusses. Framing and trusses are the skeletal backbones of your home or building's structural integrity. Our expert carpenters are available to construct and design your roof and ceiling for optimum interior and exterior support and style.
Too Many Awesome Designs Of Trusses & Vaulted Ceilings
A wood truss is essentially the piece that unites the angle of the roof and the ceiling. With many engineering designs to choose from, Dream Construction can narrow down what types of framing and trusses will suit your taste and finances. When trusses are incorporated into the framing and roof of your building or home, you'll rest assured knowing that your home was built to withstand even the worst desert storm. Beautifully manufactured, trusses create an architectural appeal based on stable geometrical allure.
Finish Framing & Roofing In A Timely Manner
If you've ever dreamed of adding an extra room above the garage or extending your house upwards and out, then let our team help you design the space of your dreams. Because of the ease in which trusses are designed, it's a much faster building process in comparison to other older framing designs and styles. If done improperly, framing can cause walls and floors to run crooked, begin to squeak, and could need extra support. We offer free estimates so that you'll know the cost of your project upfront. At Dream Construction, we can add on nearly any additional amenities, including:
Choose From Top Brand Materials & Beautiful Finishes
Whether you imagine a vaulted cathedral ceiling, bowstring trusses, or attic spaces with barreled ceilings, we're the contractors that can make it a reality. When you hire us, you know we'll have done our research and used only the highest quality brands for Nevada weather conditions.
Why Hire A General Contractor For Your Building Next Project?
We specialize in framing and trusses at Dream Construction in Las Vegas. It's important to understand and stay up to date on structural and property building codes. That's why it's best to hire experienced home builders that are insured, bonded, licensed, and knowledgeable about current standards and regulations. When you hire Dream Construction, you don't have to bother with obtaining your own permit and attempting the project alone. Let us calculate and construct your next remodel or new home, all the way from the ground up. Call us today to find out more.